As of October, 1999, The Rock Poster Collector has been expanded into its own website.

Please visit RockPosterCollector.com

Please visit D.King Gallery to purchase Rock Posters

The following is is an archived edition of the original 1998 web site:



Welcome to the Information Age
Welcome to the first issue of The Rock Poster Collector the information source for poster collectors. Please join me in making it a focal point for the discussion of posters and poster related issues.
Such a forum is long overdue.

The New Bill Graham Presents Posters
by John Lyons

Since the mid-1980's, Bill Graham Presents has been producing posters for their concerts in two numbered series.

From March,1988 through October, 1989 (when the Fillmore was closed due to earthquake damage) and resuming with the reopening of the Fillmore in 1994, BGP has issued over 300 numbered posters for shows at the legendary Fillmore Auditorium. These posters are known as the "New Fillmore" series. The posters have not been available for sale from BGP but instead have been handed out for free at the end of particular Fillmore shows.

In 1986, BGP began issuing posters for shows they produced at various venues. These are known as the "BGP" series. Except for shows at the Warfield Theater, the posters in this series have not been handed out to the public at the event.

In keeping with BGP's status in the music industry, many of the top acts in music have appeared on the posters in these series.

BGP has involved established as well as emerging artists to produce these posters, resulting in a strong run of rock poster art. Artists to watch include Chris Shaw, Chuck Sperry, Harry Rossit, Rex Ray, and Randall Chavez.

Several recently issued instant "rarities" are worth noting. BGP # ? (by Randall Chavez) was issued for the Rolling Stones shows at the Oakland Coliseum in November, 1997. New Fillmore #'s 309 and 310 (both by Randy Tuten) were issued in December, 1997 commemorating the careers of two long time BGP employees. To date, only a limited number of these posters have reached the collector world. These posters appear likely to be particularly difficult numbers for those trying to build complete BGP or Fillmore sets.

Conterfeit alert
In recent years a disturbing situation has befallen the poster collecting community-the appearance of counterfeits and the proliferation of bootlegs. It is extremely important that these be identified and documented. All known counterfeits will be identified in this newsletter and posted to the website immediately upon confirmation. Please forward any information on any conterfeits that you know of, they may be news to someone else.

Call for contributors
Are you an advanced collector or an interested historian? Do you want to preserve your knowledge for future generations of poster collectors?

We would like to create a freely accessable archive of published articles, reference materials, and news related to poster collecting. We need your help.

I am donating a web site, server space, and my time and expertise to manage the archives and the publication of this newsletter. Please help in any way you can. We need your submissions as well as your comments and suggestions. Help is also needed with converting historic reference materials to digital format.

Artist Profile: Chris Shaw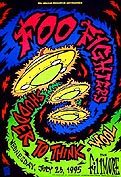 At the ripe old age of 30, Chris Shaw has already accomplished more than most artists could hope for in a lifetime. With poster credits including Pearl Jam, Primus, Kiss, Hole, The Allman Brothers, The Neville Brothers, Joe Satriani, and Foo Fighters, and set designs for both Tibet Freedom Concerts and Horde Festival '94 and '95, Shaw has done work for most of the top acts of the 90's.

An inspiring example of hard work and perseverence, Shaw's involvement with rock art began while he was still attending California College of Arts and Crafts. Needing to hire a band to play a school party, he worked a trade with the new local band Psychefunkapus. They played in exchange for 1,000 bumper stickers emblazoned with a Shaw design. It would become their trademark logo and the cover of their first album.

One thing led to another and Shaw was soon doing interiors for local clubs, rock posters, and his first full fledged set design for Bill Graham, New Orleans By The Bay '93.

First and foremost, Shaw considers himself a painter and his output of paintings is no less amazing than his list of rock 'n' roll credits. (Shaw's recent paintings were featured in a solo show at the D. King Gallery which ran from April 23 through May 23, 1998.)
Complete listing of Chris Shaw's poster work to date:

| | | |
| --- | --- | --- |
| BGP 68 | 12/31/92 | Tesla |
| BGP 69 | 12/31/92 | The Neville Bros. |
| BGP 79 | 9/19/93 | Womad Festival |
| BGP 83 | 10/28/93 | Pearl Jam |
| BGP 89 | 12/31/93 | Joe Satriani |
| BGP 144 | 5/23/96 | Laguna Seca Daze |
| BGP 153 | 8/27/96 | Kiss |
| BGP 196 | 7/4/98 | Warped Tour '98 |
| PCL 71 | 11/10/95 | Sonic Youth |
| F 124 | 4/28/94 | Primus |
| F 157 | 8/22/94 | Us3, The Fugees |
| F 167 | 10/21/94 | Mc 900 Ft Jesus |
| F 170 | 11/11/94 | Hole |
| F 181 | 3/25/95 | Funky Meters |
| F 195 | 7/26/95 | Foo Fighters |
| F 205 | 12/20/95 | Cypress Hill |
| F 217 | 4/23/96 | Kenny Wayne Sheperd |
| F 234 | 9/3/96 | The Allman Brothers |
| F 268 | 5/1/97 | The Mighty Mighty Bosstones |
| F 269 | 5/3/97 | Spearhead |
| F 291 | 9/23/97 | Violent Femmes |
| F 301 | 11/17/97 | The Sundays |
| F 303 | 11/25/97 | Reel Big Fish |
| F 313 | cancelled | Johnny Lang |
| F 343 | 10/9/98 | Tower of Power |
Chris Shaw Posters For Sale

King's is dead...Long live D. King

After 20+ years of operating a retail store 10 hours a day 6 days a week, I decided I deserved a break. On November 1, 1996 I officially closed the door of King's on Center St. for the last time. Little did I know, the fun was just about to begin (you try moving a 20 year accumulation of posters, trading cards, sports collectibles, and god-knows-what and see how long it takes you!). Six months, three coats of paint, and two hundred or so grey hairs later, the D. King Gallery sign went up just scant hours before the opening of our first exhibition.

It has been a welcome change. For years I've been wanting to concentrate exclusively on art and posters. Not only have I been able to create a great display space but finally I have enough time and space to organize all the posters and stuff I've been piling up all these years.

At the Gallery
Derek Hess exhibition -"Behind Enemy Lines"-prints, posters, & original drawings

Stone lithographer turned silkscreen poster artist and Generation X icon Derek Hess debuted his new series of art prints July 24, 1997 at Berkeley's D. King Gallery. A large number of his posters and original drawings were also on exhibit.

Hess has created over 100 posters for bands ranging the spectrum from Nine Inch Nails to Pink Floyd. He was chosen to create prints commemorating the grand opening of the Rock and Roll Hall of Fame and their "Three Decades of Heavy Metal" exhibit.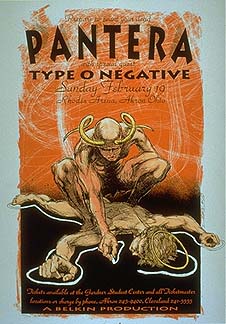 Hess' strong technical skills and intuitive feel for his medium set him apart from his contemporaries. His works are executed with depth, compassion and an obsessive concentration on the human form.
The Musee de la Publicite at the Palais du Louvre called his work "...remarquable serie d'affiches" (a remarkable series of posters) and has a set in their collection. Affiche, the European journal of poster art, called his "the most highly sought after concert posters in the world".

"Hess paints a world of anxiety and surrealism which speaks for the emotional state of Generation X." If there really is a Generation X, they are alive and well and living in a Derek Hess poster.

The exhibition opened July 24 and ran through August 30,1997.



Visit the online exhibition by clicking the button above
Derek Hess Posters For Sale


Ask the experts - Q&A
Starting in the next issue, we will begin publishing answers to your questions.
Here's your chance, Ask away!... See you then!

The Rock Poster Collector is provided as a service to the poster collecting community by :



2284 Fulton St.
Berkeley, CA 94704
(510) 548-1062
(510) 845-8211 fax
dk@dking-gallery.com

© 1998 D. King Gallery , posters copyright their individual copyright holders